An innovative residential experience, high quality construction and high technical specifications, all in a rural and pastoral environment that promotes values such as community life, connection to nature and quality of life.
The project is in a central and quiet location among orchards and facing a breathtaking countryside view.
Want to get more details about the project?
Fill your info and we will get back to you as soon possible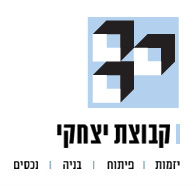 2-8 Ehud Manor, Kfar Yona